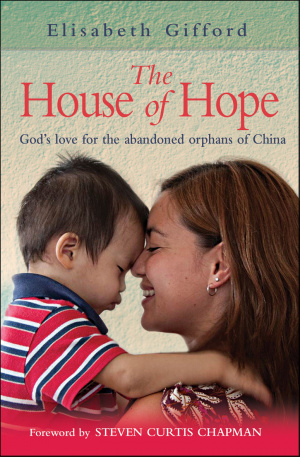 A WINNING READINGS GIVEAWAY!

Title: The House of Hope: God's Love for the Abandoned Orphans of China
Author: Elizabeth Gifford
Genre: Nonfiction - humanitarian biography
How to enter: Leave a comment on THIS post right here! If you're a subscriber or a follower, leave a second comment for a second entry.
Entry deadline: December 10, 2011
Restrictions: Open internationally!
That's right, enter right here for this giveaway. This is my review copy, so it has been gently read.
EXTRA! EXTRA!
The publisher is sponsoring a $50 "GET / GIVE" GIVEAWAY: One winner will receive a $50 Amazon.com gift certificate for themselves AND $50 will be given in the winner's name to Hope Foster Home. Just tweet or facebook! See Litfuse Blog Tour for more details.
---------------
Publisher:
Monarch Books
Physical Description:
224-page paperback
List Price:
$13.99
ISBN:
978-0857210593
Synopsis:
One couple's powerful ministry to some of China 's most vulnerable children




Robin and Joyce Hill lived in a gated community in

Beijing

. Their family's life was marked by luxury and the security of Robin's job as an engineer. Then one day, as members of their church, they had a chance to tour a state-run orphanage. Haunted by the needs of the children they saw there, for the next four years they tried to help the institute in meaningful ways.




In 1998 the Hills planned to leave China , but instead felt a sudden call from God on their lives. They left their gated community--reserved for only non-Chinese residents--moved their family into a small apartment miles outside of Beijing and immediately began to take in foster children.




They took in any child, but especially those that needed extra care-terminally ill children that couldn't receive care elsewhere, and those that needed complicated and expensive surgeries that the Hills soon began to coordinate and sometimes pay for out of their own savings.




What began as Hope Foster Home is now New Hope Foundation. As they continue their work, the Hills enjoy support from major corporations and high-profile philanthropists as well as the trust of the Chinese authorities. The Hills' story is an inspiring example of God's care and provision for those whom society does not value.




"I strongly support Robin and Joyce Hill's New Hope Foundation which is saving so many orphan lives in China . Read this amazing story of God's grace and accept the challenge to make a difference!"


--

Steven Curtis Chapman
About the Author:
Elisabeth Gifford lives in Kingston and teaches children with dyslexia. She has written articles on literacy for the Times Educational and Independent newspapers. She holds an MA in Creative Writing from the course run by Sir Andrew Motion at Royal Holloway University, London.
What I Liked:
You cannot fail to be inspired by story after story of a child's life touched forever through the ministry of the Hills. The stories all start to blend in my mind after awhile, yet it is obvious that to their foster parents, each child is a unique, precious individual, infinitely loved by the God of the universe Himself.

Here's what Rob has to say about Nico, a baby unable to see, hear, move or respond, yet who was loved and cherished by the Hills and their staff during his short life. "It was one of the things that really hit me; how God was willing to put all of the very best resources around a child that was never going to amount to anything in this lifetime. It always spoke to me; if God was willing to do that for Nico, then how much more is God willing to do that for all of us - to just wastefully expend His grace for each of us, throughout eternity?"

Robin and Joyce are not perfect - the book doesn't paint them as such - but they are called. This book shows how answering God's call and aligning your life to it doesn't take away the blemishes and problems, but makes them insignificant in the light of all God is doing through you. I thank them for sharing their story, and the author for conveying it well.

What I Didn't Like:
While the author does provide some detail about the Hill's emotions and reactions to their circumstances, I finished this book just wishing I could sit and chat to them for awhile. What really makes them click? I am thankful for the promise of eternity to get to know them better!

---------------
Thanks to
Litfuse Publicity Group
for coordinating a review copy of this book. We are not being paid for this review, and all opinions are our own.
100% of the proceeds of the book go to support the work of Hope Foster Homes (please visit their site to learn more) - buy a book for yourself and everyone you know. This book is a gift that gives a gift.