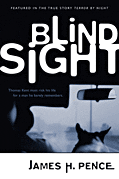 A WINNING READINGS GIVEAWAY!
Title: Blind Sight
Author: James H. Pence
Genre: Christian suspense
How to enter: Leave a comment on THIS post right here! If you're a subscriber or a follower, leave a second comment for a second entry.
Entry deadline: January 10, 2010
Restrictions: Open internationally

That's right, enter right here for this giveaway. Please note: we are giving away our review copy, so it has been gently read.
---------------
Blind Sight
, by James H. Pence, is a reminder that God's love can conquer any pain and brokenness of our past if we allow it. This 416-page softcover novel, published by
Tyndale Fiction
, has a list price of $9.99.
Here's how the publisher summarizes the book: "Thomas Kent is reluctantly drawn into the murderous plot of a dangerous cult as he helps to save the wife and children of an old acquaintance. As they uncover and attempt to expose the cult, Thomas finds himself facing the past and discovering that his guilt and brokenness can be conquered by God's mercy and love."
Author James Pence has a widely-varied background. You can read more about him in the interview we posted last month. And stay tuned for a review/giveaway of James Pence's nonfiction, Terror by Night, which includes an amazing story of how God used this book to touch Terry Caffey's life.
My Review
If you're looking for action-packed reading with suspense, lives at stake, and reluctant heroes, this book has it for you. I got sucked in on the very first page, rooting for the good guys and hoping they'd survive. Being a little anti-conspiracy-theorist myself, I found some of the plot a little far-fetched, but I know many who would find it quite believable.
The author did a good job in setting up the scene as to why a cult was started and how converts were made. And he definitely created some great characters - I love the human-ness, and the conflict of the twin children at the center of the story.
What makes the story for me is the drama of the heart - the attempt to understand why God allows bad things to happen, and the answer found in the not-often-quoted Habakkuk: "Though the fig tree does not bud and there are no grapes on the vines, though the olive crop fails and the fields produce no food, though there are no sheep in the pen and no cattle in the stalls, yet I will rejoice in the Lord, I will be joyful in God my Savior. The Sovereign Lord is my strength; he makes my feet like the feet of a deer, he enables me to go on the heights."
Overall, an attention-grabbing read with a great message.